Introducing…
Stethee Pro
R

evolutionary
AI Enabled Stethoscope System.
Stethee Pro re-defines what a Stethoscope should…and can do.
Welcome to the new era of personalized and precision medicine.
The world's first wireless electronic stethoscope with world class Machine Learning Algorithms for Cardiac and Respiratory Events Detection. Delivering unparalleled detail on Cardiac and Respiratory vital signs.
We've just changed the game… twice.
Cardiac
Capture heart sounds and monitor cardiac performance.
Stethee Pro automatically captures and measures Systole and Diastole Durations.
Learn More

Respiratory
Capture lung sounds and monitor respiratory rate.
For the first time ever…Capture your patient's Respiratory Rate in just 20 seconds.
Learn More
A Deeper Level of
Cardiac Health.
Giving you an unprecedented level of understanding of the performance of your patient's heart function.
Capture Systole and Diastole durations down to milliseconds - a level of detail never possible before.
Our patented AIDA Cycle elegantly displays each heart contraction and relaxation event for each heartbeat.
AIDA Energy display the relative energy of heart valves.
Auscultate heart sounds using specially designed filters to amplify the subtle features of heart sounds.
Capture a truly compelling set of cardiac vital sign data in just 20 seconds. Triage, screening and clnical examination will never be the same.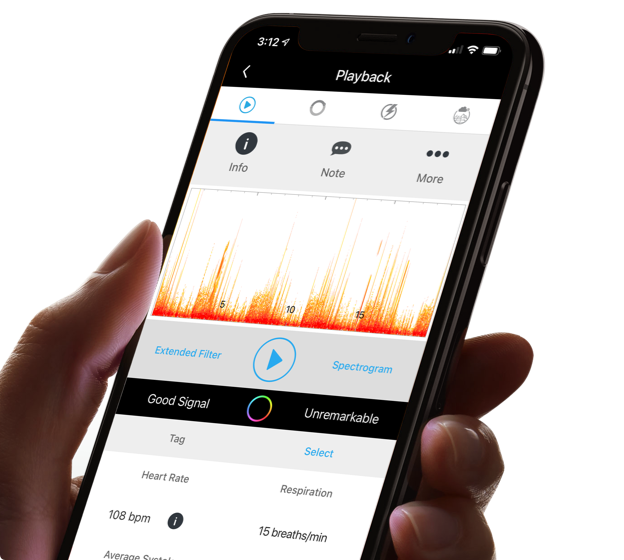 A Breath of Fresh Air…
for Healthcare.
"See" your patient's lung sounds. Visualise durations of Inspiration, Expiration, and additional lung sounds along with an FDA cleared respiratory rate measurement.
Establish a baseline of vital signs, and monitor the progresssion of respiratory symptoms or conditions over time.
Listen to lung sounds with incredible clarity using wired or wireless headphones.
Capture a truly compelling set of respiratory vital sign data in just 20 seconds. Triage, screening and clinical examination will never be the same.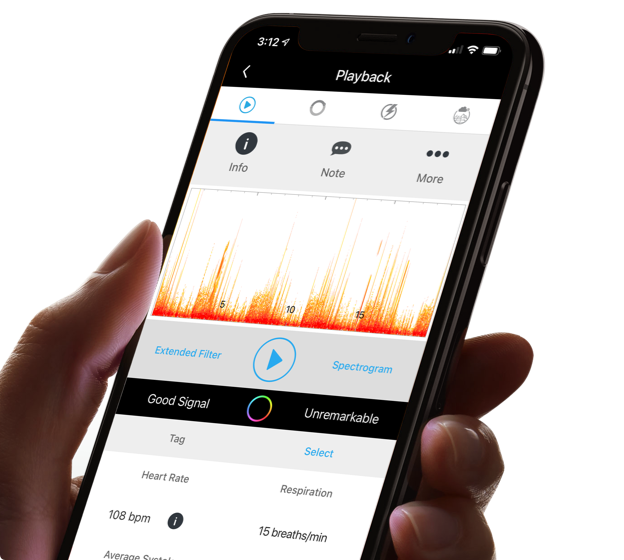 Listen, See & Feel…Life
The better way to auscultate, visualise data and engage with your patients.
Listen.
A powerful auscultation experience.
Use Stethee Pro to auscultate with wired or wireless headphones.
Listen to the fine details, subtle nuances and important features of heart, lung and other body sounds.
Sound amplification 24X and up to 96X using Stethee Pro App.
5 specially designed filters to enhance your auscultation experience.
Heart

A special filter designed to enhance the frequencies of heart valve sounds only.
See.
Visualise cardiac and respiratory vital signs.
Introducing AIDA.
Machine learning powered visualization in just 20 seconds.
Overview
A wealth of vital sign information, including: Heart Rate, Respiratory Rate, Average Systole and Diastole Durations.
AIDA Cycles
The Phonocardiogram (PCG) reinvented for a new era…a simpler way to visualise the heart cycle.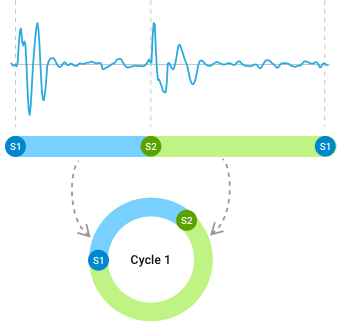 The traditional PCG is hard to interpret. We've created an elegant way to help you visualise and understand important features of a heart recording.
This can assist in the management of cardiac conditions like heart failure and certain arrhythmias.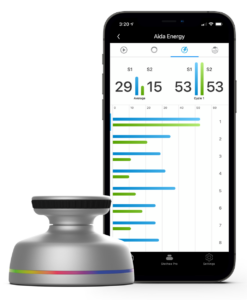 AIDA Energy
Displaying the relative energy levels of the heart valves to help understand heart valve disease and hypertension.
AIDA Enviro
Capture environmental and geographical data to help understand their effects on the patient's vital signs over time.
Introducing M3DICINE Central.
A feature packed web portal, where you can manage your patients' data, generate and share report.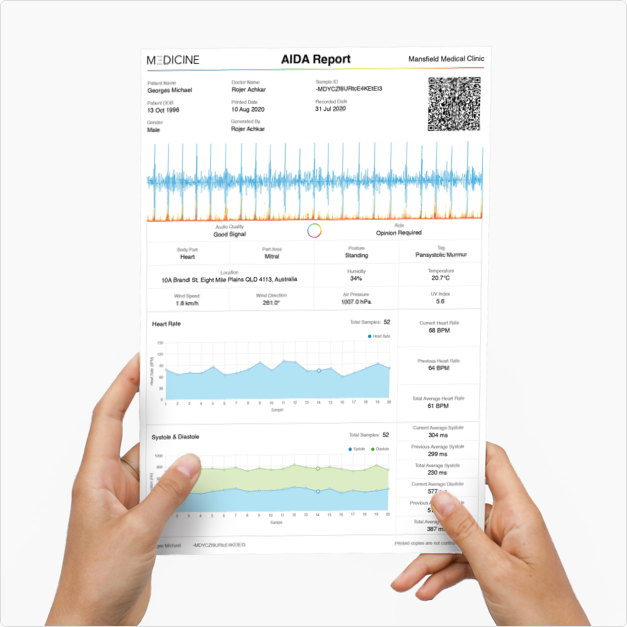 Generate a PDF to easily import data into your clinical records.
Clinically actionable vital sign data at your fingertips.
Track and monitor your patients' baseline vital signs.
Share and Compare with your colleague.
Feel.
Engage with your patients. Increase the efficiency, quality and standard of your care.
Spend less time being a technician and more time being a world class health care professional. Stethee Pro will allow you to focus your precious minutes on truly engaging with your patients.
Capture vital signs during remote visits and share data with colleagues around the world. Allow your colleagues to listen to heart, lung and other sounds and access reports from M3DICINE Central.
Lead Clinical Partners
SRS Life Sciences and M3DICINE are working together in India towards developing AI based algorithms for the screening and management of Pneumonia.
M3DICINE has been working with UCSF and leading academic partners in 11 countries on a global initiative funded by the National Institutes of Health (NIH) to more quickly and accurately screen for drug-susceptible and drug-resistant tuberculosis (TB). Researchers in the trial will use the superior respiratory capability of the Stethee Pro 1 device as a screening tool and the goal is to develop new AI algorithms for detecting TB.
Prisma Health is the largest not-for-profit health organization in South Carolina, serving more than 1.2 million patients annually. With 32,000 team members who are dedicated to supporting health and well-being.
Welcome to the Future
of Stethoscope Technology.